We are Salesforce Architects specializing in state of the art solutions for Education Industry
Contact us
Universities entrusted us with 18 consecutive projects
We have completed 14 projects for universities
and started the implementation of another 4
SWPS University is one of the largest private universities in Poland with a community of over 17 500 students at undergraduate, postgraduate and doctoral levels. The university has five campuses, located in major Polish cities, including Warsaw, Wroclaw, Sopot, Poznan, and Katowice.
Kozminski University is a private, non-profit business school in Warsaw, Poland, and is considered to be "Poland's highest rated private university". There are over 12 000 students at Kozminski University. It offers bachelor's and master's degrees, a doctoral school, as well as post-graduate studies, including MBA programmes, in Polish and English.
We offer consulting and support services to help universities manage their processes
Recruitment & Admissions
Attract prospective students, make the admissions process friendly, assess applicants effectively and admit the best-suited ones.
We provide comprehensive solutions for management and handling recruitment and admissions processes. We are aware that admissions processes vary depending on the institution and the program applied to by applicant, that is why our solutions are focused on flexibility and scalability in terms of configuration and parameterization. Our solution for admissions includes Admissions Portal dedicated for applicants, Agency Portal dedicated for recruitment agencies and the back office application designed for effective verification and assessment of the submitted applications by the applicants.
Marketing & Communication
Communicate effectively to build and maintain relationships with your University stakeholders, including students, faculty, alumni, donors, and the business.
We provide solutions which can help you to manage all marketing campaigns and communication channels from one place including emails, SMS messages, social media, websites, mobile apps, live chats and chatbots.
With our solution, use various communication channels to keep your stakeholders informed about news, events, updates on academic programs, research programs and results, etc.
Students Portal
Give your students a central hub to manage their academic and social activities at the university, which can be easily accessed from any desktop and mobile devices.
We provide portals that allow students to access important information related to their academic progress, such as course schedules, grades, assignments and many more. Students can use the portal to communicate with professors and other students, participate in online discussions, and collaborate on group projects. The portal can also provide access to a variety of resources, including library databases, academic advising services, and career services. Overall, the student portal can be an essential tool that helps students manage their academic journey and achieve their goals.
Career Center
Build strong relationships between university and business and support your students to start their career path.
We provide solutions for management of the students' career development and job placement processes. These solutions include tools for resume building, job searching, and employer engagement, all accessible through a single platform. With Salesforce Career Center solutions, universities can equip their students with the skills and resources necessary to succeed in the job market, while building stronger relationships with employers and alumni.
Student Support Services
Help your students overcome challenges, maximize their potential, and achieve their academic and personal goals.
We provide solutions that can help you to manage various student support services like academic advising, tutoring, career services, mental health counseling, issuing certificates and decisions for students and many more.
Students can interact with student support departments from any desktop and mobile devices and via channels they prefer. Participants of the student support processes have view on all registered interactions in one place and can use one unified tool to serve the support with ease.
Alumni Portal
Foster lifelong relationships with former students.
We offer a platform that enables universities to stay connected with their alumni community, keeping them informed about news, events, and opportunities. It provides a centralized location for alumni to update their contact information, access exclusive content, and connect with other members of the alumni network.
Education can increase engagement, fundraising, and support for the institution.
Surveys
Evaluate courses, educational events and lecturers with one-click send surveys. Collect data quickly and present results in a convenient form. Regardless of the number of surveys, the data is accumulated in one place. No paperwork, just in the form of an email or as a message on mobile devices.
Get the freedom of creating customized and highly configurable surveys and quizzes for the university: branded surveys (with your logo and branding features), an impressive choice of answer formats (from yes-no questions to text-based questions types, multiple choice, numeric scale and many more) and dynamically controlled question visibility.
Draw the right decisions. Adjust the learning paths to the needs of the students and respond to the changes in the learning market. Thanks to efficient survey management, create outstanding learning experiences for existing and future students and members of the teaching staff.
E-commerce Platform for Online Courses
The future of education lies in courses that teach knowledge in a highly specialized field. The learning facilities respond to the trend. A variety of short courses and programs are available to meet the needs of working professionals, distance learners, and people who are keen to learn more in retirement.
Educational platforms are becoming convenient tools for learners. And for learning facilities, they provide new ways to sell educational products and services online.
The e-commerce platform facilitates the sale of any educational goods. This happens thanks to simplified procedures and straightforward methods of payment. As a result, it frees up the time of those who were involved in the course's delivery.
CRM for Universities
The various departments at educational institutions should collaborate to achieve outstanding outcomes. What's the best way for them to work together to achieve a common goal, which is to achieve excellence in all areas?
The solution lies in CRM (Customer Relationship Management). This product is designed for e-commerce, but it can be easily implemented at universities. One system collects all crucial information on business collaboration, research, events, student work, alumni issues, etc.
It is accessible to every academic department within the university. Knowing the previous actions and background of the people you're talking to helps to make the right decisions.
Universities can streamline their admissions, recruitment, fundraising, and engagement processes, improving student experiences and increasing institutional success.
Student Administration Office
In the context of digital transformation, we provide universities with unified tools for overseeing course scheduling, faculty resource allocation, and numerous other tasks.
We want to give employees the tools they need to do their jobs faster and carry out reliable workflows. We provide solutions to enhance internal communication, streamline processes, and implement electronic document flow.
Educational institutions can improve their operational efficiency, reduce costs, and increase the overall student experience.
Database of Scientific and Art Achievements
We are developing tools that help universities keep track of scientists and their connections in science and business. The efforts are focused on establishing databases that serve as a comprehensive source of information about all scientists' and students' works, grades, and achievements. It helps to identify any forms of plagiarism or misuse of scientific or artistic works.
The databases retrieve data from international repositories such as Scopus, Web of Science and others. They enable scientific results monitoring and analysis. Universities can model scientific career paths, automate communication with scientists, integrate data about them, and ensure legal and procedural compliance according to intellectual property law.
Knowledge Base
We are developing knowledge bases for different stakeholders within the higher education ecosystem. These solutions serve as a guide to scientific, disciplinary, and administrative topics.
This is achieved through the publication of informative content, the clarification of frequently asked questions (FAQs), utilizing community forums, and other useful tools. Together, they offer universities an effective case-deflection strategy and redirect users to digital channels
Our value for Salesforce Education Customers
We work on improving your areas of management from our first contact. That's why you will talk to a Salesforce for Education Expert right on the first call.
Our team has Salesforce Education Cloud and Education Data Architecture experts.
students use our solutions
sent course evaluation surveys
student applications processed annually
Our Education Customers say about us:
Incredible care for the client's needs, a wonderfully supportive implementation team full of willingness to help and patience. Thanks to their commitment and knowledge, the process ran as smoothly as possible. It was (and still is) a pleasure to work with.

Kamila Dryjańska

Recruitment Manager, SWPS University
Understanding the organization's business processes and goals makes Think Beyond a trustworthy partner in the implementation of complex Salesforce solutions.

Agata Wysocka

Recruitment Director, SWPS University
The knowledge and advice of specialists from Think Beyond turned out to be invaluable for my team. Especially when we were facing challenges resulting from the very complex system and business environment of the University.

Katarzyna Ksenicz

Deputy Director of Center of Communication and Customer Services, SWPS University
Employee evaluation for SWPS
We have accelerated, simplified and partially automated the employee appraisal process.
Find out more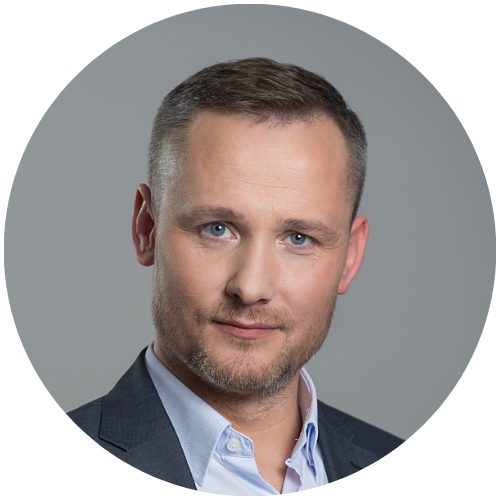 Adam Czeczuk
Head of Consulting Services and Salesforce Architect