Tailoring educational journeys to individual preferences is a key strategy for universities. Students engage with the content and resources that resonate most with their goals. But there is even more. Personalized experiences contribute to student retention, satisfaction, and overall success, as they feel valued and supported on their unique academic paths.
"Personalization is certainly top of mind and something that we are doing with Salesforce Marketing Cloud. We absolutely could not do this at scale before Salesforce"
–

CIO, a public research university

.
Source: Forrester Report: The Total Economic Impact Of Salesforce Education Cloud, October 2020
Marketing aut
omation to improve student interactions
How does it work in practice? We can look at some examples and see how they can be solved. This is the best way to convince people that a personal approach is helpful and wanted.
Let's look at what happens when a student is eager to learn more. How does this process look from the perspective of the academic advisors?
After receiving the information, the student record will be updated to indicate particular interest.

The student is added to lists and gets emails about upcoming opportunities and events that take place on campus.

The student is informed of a forum where an alum is scheduled to speak about career opportunities in certain areas.
This was a simple process. But it could be more complicated. Let's say a person is interested in studying abroad, but can't make it to the office to speak with an advisor about this issue. What is the best way to handle this situation?
After receiving the information, the student record will be updated to indicate particular interest.

The student is provided with a link to the website with the necessary information.

The student is connected to resources for the study abroad application process automatically.

The advisor can keep track of the advisee's journey.

Statistics help him/her identify areas that are particularly interesting for the student.

There is even a way to find out which events the student signs up for and if he/she checks into the event.
Before the in-person appointment, both the student and the advisor are ready to talk in-depth about studying abroad.
Personalizing campus connections with Experience Cloud
Many institutions are familiar with portals where students and staff can log in to access assignments, grades, and schedules. It is a real help in daily academic life. But it is not the same as what Salesforce offers. Experience Cloud uses more engaging and interactive features to attract students. Let's look at some of them to learn more about the value that stands behind Salesforce solutions.
According to the Connected Student Report, students would feel better connected to the student community at the university if there were:
Student clubs and similar interest clubs

Opportunities to talk to industry reps, alumni, and PhD students

Student and wellbeing support

Transparency, listening, and open-mindedness from an institution

Face-to-face interactions and getting together in person

Social events and networking opportunities.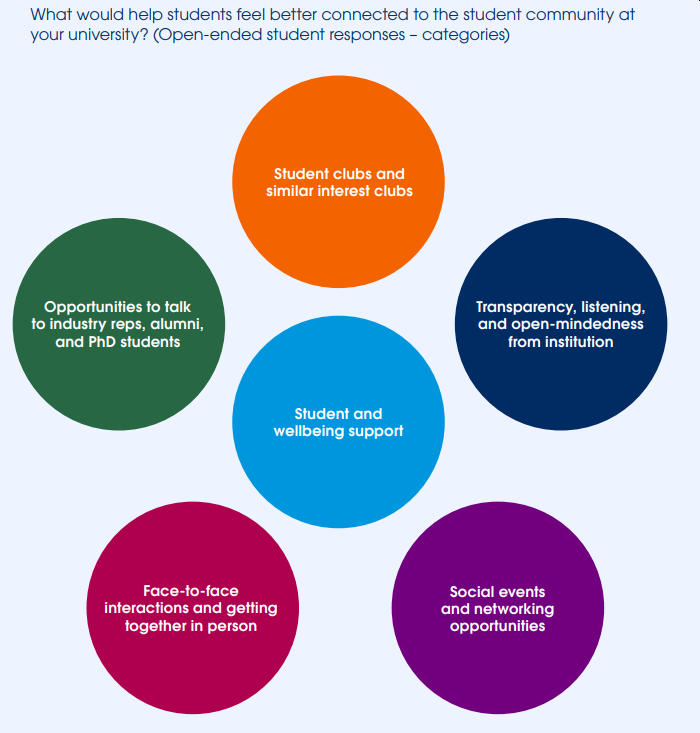 Source: Connected Student Report, Third Edition, Salesforce

How are all these actions and opportunities supported with the Salesforce Experience Cloud? Well, digital networking helps to self-organize students into relevant affinity groups. Based on courses, interests, sports teams or clubs. There is a place for faculty advisors, who can engage with student groups to answer questions, share links to resources, and provide real-time assistance without appointments or a delayed email reply.
Providing a broad range of support services while enabling the entire community to support one another is one of Coventry University/s overarching aims. The U.K. institution created peer support systems, for example, by using an app to connect students who might be struggling with the same issues. "It allows us to bring people together who have similar experiences," shared Ian Dunn, Provost at Coventry University, in an interview with The Guardian.
Source: Connected Student Report, Third Edition, Salesforce

Experience Cloud offers tools to present experiences in a clear and shareable way:
Knowledge Base where students find articles filled with useful information. It is the best way to answer all frequently asked questions concerning faculty, staff, or students.

Topics that include articles, community-sourced answers, and posts. One can find interesting answers using keywords.

Chatter Answers, which means communication in real time between staff and students. Unanswered questions can automatically be turned into a case.
Experience Cloud provides a comprehensive suite of tools designed to enhance the sharing of information and create clear, accessible experiences for students.
Digital interactions within the Education Cloud
In the age of constant connectivity, channels of digital engagement are important for understanding the changing landscape of service delivery. This also applies to the education industry. 
The digital ways help universities to understand how students behave, what they want, and what they think. It's not merely about reaching out; it's about connecting, engaging, and building relationships in a world where digital interactions have become a fundamental part of our daily lives.
Case study
R
e
c
r
u
i
t
m
e
n
t for SWPS University
During cooperation with SWPS, the number of candidates for studies increased by 20%.
Providing candidates with a better experience and a higher level of self-service in the new system
Reduction of manual processes and the need to deliver paper documents
Improving communication between the university and the candidate as well as individual organizational units involved in the recruitment and admission process
Find out more